National Career Readiness Certificate
Individual Testimonials
Carmen
When I first saw information on the NCRC, I was curious as to how, with a formal education, this would be of benefit. I scheduled the testing, and upon completion and seeing the results, I was able to determine the following about the NCRC:
Despite formal education (my most current degree being 2007), this testing allowed me to demonstrate my current ability for problem solving, critical thinking and being able to apply work-related language and understanding in a current professional setting.
I was able to show that my mathematical reasoning and calculations did apply to current work.
I was able to compare, analyze, summarize, locate and synthesize information which is relevant in today's job market in the areas of my interest.
This testing process applies in all areas that everyone uses on a daily basis, and this helps employers gauge a person's abilities based on their formal education, their knowledge, and personal strengths. This helps employers recognize the skills and abilities of those who are prospective candidates for any position, by taking a look at their National Career Readiness Certificate and through the interview process.
I have already recommended others to take the NCRC, as it is recognized nationally. This tool helps to secure employment for others by showing their strengths that may not have been seen or disclosed in an interview; and with nation-wide employers looking for this certificate, this will open many doors for those who are seeking jobs at home or across the nation.
Marlene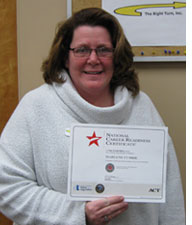 I moved to Pierre in 2012 from a suburb just north of Chicago. I found myself in a new community and didn't know where to start to look for work. After taking a few part time positions and feeling unfulfilled, I wanted to find something full time and with benefits to help me achieve my personal and professional goals.
My first visit to the Department of Labor and Regulation opened the door to an entire job resource that was much more extensive than the newspaper want ads. I soon realized that I would need to have the NCRC certification alongside my resume in order to be considered for many of the positions that I was hopeful to apply for. My employment specialist prepared me for the pre-test, and I was referred to The Right Turn for the official test to be taken there. After completing my test and receiving my certificate, I was called for several interviews and received offers. I finally felt I was in a position to make some better choices to achieve my goals.
I have accepted a position with The Right Turn, Inc. My position there not only helps me to achieve my goals, but allows me to help others achieve theirs.
Mary
I was reluctant to do the testing as an older adult (53), but I was noticing quite often the employer would mention that the NCRC would be preferred or at least notify employer that you have taken the NCRC on your application/resume. I did put it off one year and decided I would go ahead with the task. I gathered my courage and made the call to schedule the testing, and the people at Dept. of Labor were very helpful. I decided that I needed to do that test in order to find the job that I wanted. The first part of the testing went OK. It gave me a basic understanding of what the official test would be like. It did take a couple of hours, but I was unemployed and had nothing going on that day. I also could do practice testing (KeyTrain) at home after given instruction to the site. This was a tremendous help. When it came time to do the actual NCRC test, you call when you're ready. I was directed to the gals at the adult education area. Kay and Nancy were extremely friendly and made me feel comfortable about taking the test. If it had not been for the help from these gals, I would not have made it. I believe their knowledge and informative direction made me feel relaxed and able to do well on the test. I also got the job I wanted.
Dori

Biggest benefit – The employer who just hired me was knowledgeable as to what the NCRC was and very impressed that I had scored Gold.
What surprised me about it – how thorough it was. I was mentally drained when I finished this test.
What did I learn? – to be very thorough when looking at graphics and make sure you know what is being asked before you answer the question because more than 1 answer could work, but there may only be 1 correct answer depending on what they are asking for.
Would I recommend this to others? – Yes, because if you are like me and an employer recognizes you have this certificate, it might be the determining reason you get the job over someone else.
Weston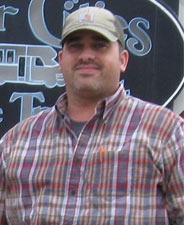 I use the 3 basic skills on a daily basis. Taking the NCRC exams allowed me to exhibit these skills to the employer. The tests were not difficult, and the time allowed was plentiful. The process was simple and thoroughly explained.
To learn how to obtain the NCRC, contact your local Department of Labor and Regulation office.