Career Launch SD Work-Based Learning Toolkit
Career Launch SD was established to increase student awareness about career opportunities in their communities and help meet South Dakota's demand for a skilled workforce. The Department of Labor and Regulation (DLR) encourages schools, businesses, parents and others in the workforce to join the effort to increase student awareness about careers so they can make informed decisions as they enter the workforce. To assist in this process, DLR has organized the following resources to assist with incorporating career information in the classroom.
A webinar on the Work-Based Learning Toolkit was presented Dec. 12, 2018. View the Work-Based Learning Toolkit Overview Webinar (MP4 video).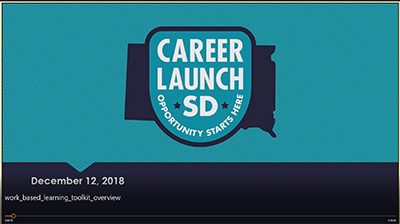 Please note, forms below are what DLR uses. Schools will need to adjust verbiage to suit the needs of their districts. Please contact Career Program Coordinator Crystal Trevino, for editable versions of these documents.