Postsecondary Graduate Outcomes System
Need Assistance?
Having problems viewing the Graduate Outcomes system?
The screen of the Graduate Outcomes system where you can select (from drop-down options) the school type, area of study, major, graduation year, beginning wage year and ending wage year of interest should look very similar to the screen shot below. If it looks significantly different on your monitor, please try the suggestions below.

Try these suggestions:
If convenient, access the system with the Google Chrome browser or another browser rather an with Internet Explorer. Internet Explorer can be especially problematic.
If Internet Explorer is your only or preferred browser, try changing the compatibility view. Within Internet Explorer, from the Tools drop-down menu at the top, choose "Compatibility View settings." On the "Compatibility View Settings" screen that pops up (as shown in the screen shot below), is "sd.gov" already listed in the box under "Websites you've added to Compatibility View:?" If it is not, add it. To add it, if "sd.gov" is not already appearing in the box under "Add this website:," type "sd.gov" into that box, then click on the Add button. Now close the Compatibility View Settings pop-up box (by click on the red box with the X in the upper right corner). Refresh the Web page by clicking on the circular arrow to the right of the URL, or by pressing the F5 key on your keyboard. The Graduate Outcomes system should appear correctly now.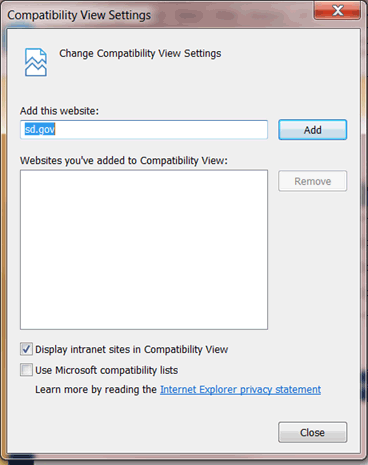 If the Graduate Outcomes system is still not displaying correctly after you have tried the suggestions above, please contact us for assistance. We apologize for any inconvenience.
Labor Market Information Center
South Dakota Department of Labor and Regulation
P.O. Box 4730
Aberdeen, SD 57402-4730
Phone: 605.626.2314 or 1.800.592.1881
Fax: 605.626.2322
email