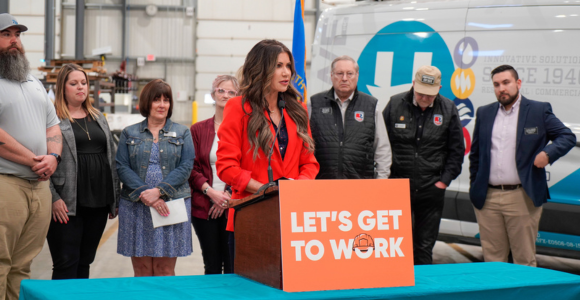 Gov. Noem Announces Additional Funding for Apprenticeship Programs
On April 25, Governor Kristi Noem and DLR announced additional financial assistance for businesses and apprentices to develop new and expand existing Registered Apprenticeship Programs. The effort will invest $7.9 million over three years to administer apprenticeship grants.

"South Dakota has the lowest unemployment rate in America, but we still have workforce challenges to address," said Governor Noem. "Apprenticeships will provide South Dakotans the opportunity to gain valuable on-the-job training while continuing to earn an income and provide for their families."
New sponsors can receive up to $15,000. Current sponsors expanding current programs can receive up to $10,000. Recipients of these awards will receive technical assistance from DLR as they register or expand programs. 
Employers, registered apprenticeship sponsors, and education or training providers looking to build or expand programs are encouraged to apply for financial assistance before June 2, 2023. Visit StartTodaySD.com for more information.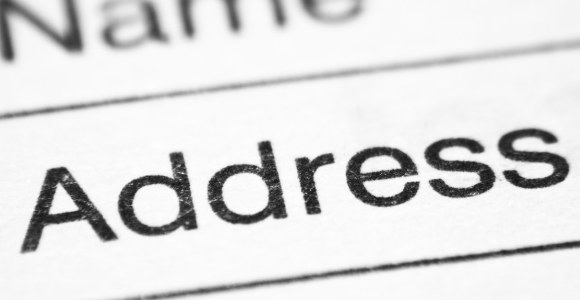 If You Have Moved: Employer Address Verification
To ensure the Reemployment Assistance Division has your current address and to prevent a delay in receiving your RA Tax information, please provide your new address and information to DLRRATAXREP@state.sd.us.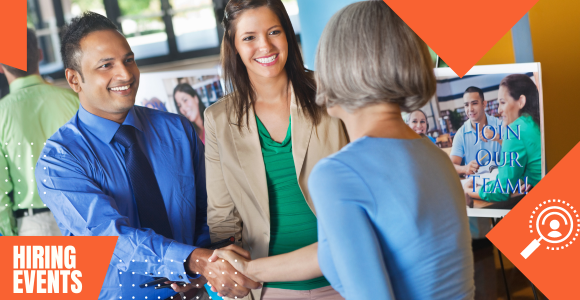 Job Service Offices Offer Hiring Events
Job Services offices in Yankton, Watertown, Sioux Falls, Mitchell, and soon in Rapid City, have been coordinating recruiting and hiring events for employers. Participating businesses can build brand awareness, find an untapped pool of qualified candidates, benefit from face-to-face interaction with potential employees, and save time and money finding qualified employees.
Events provide job seekers the opportunity to visit, apply, and possibly receive a confidential interview with one or more businesses in one location.
View upcoming events or contact your Job Service office for recruitment strategies.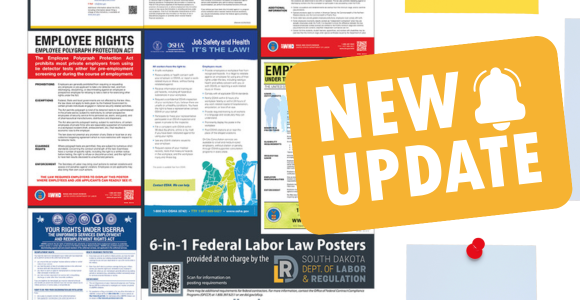 DLR 6-in-1 Poster Updates from U.S. DOL
DLR offers a compliance poster which includes the six required federal labor law postings at no charge. You may request the 6-in-1 poster through your Job Service office.
The U.S. DOL has made recent updates to:
Family and Medical Leave Act (FMLA) Poster in April 2023

The April 2016 and February 2013 versions still fulfill posting requirements. An employer does not need a new poster if they have the 2013 or 2016 version. Our 6-in-1 poster uses the April 2016 version. Future printings will be updated to the 2023 version.
Fair Labor and Standards Act (FLSA) Poster (Minimum Wage) in April 2023

Additionally, there will be another update, presumably sometime in June 2023:
The U.S. Equal Employment Opportunity Commission (EEOC) is in the process of updating this poster to address the Pregnant Workers Fairness Act, which goes into effect on June 27, 2023. This most likely will also be the only version allowed once it is released in June 2023.
DLR will release another revised 6-in-1 poster later in 2023.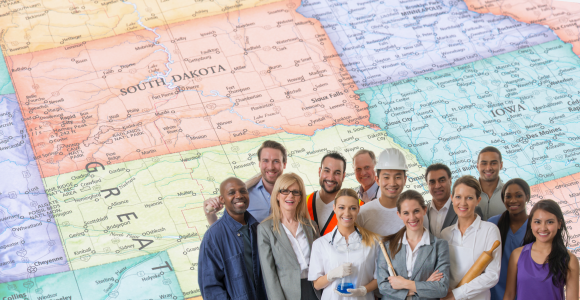 Out-of-State Employer Liability and Registrations
All employers must provide a valid physical work location for employees within South Dakota for the Reemployment Assistance Division to verify liability has been met in South Dakota.
A valid physical work location does not include a P.O. Box, PMB, virtual office suite, etc. If the business does not maintain an office in South Dakota, the address listed must be the worker's physical address. If liability cannot be determined, the registration will not be processed until one can be provided.

Report to South Dakota:

South Dakota residents who work for you in South Dakota (regardless how long).
Out-of-state employees working in South Dakota more than 90 days.
Report to Your Home State:
Out-of-state employees working in South Dakota fewer than 90 days.
Other:
South Dakota residents who work in another state should be reported to the state where the work is being performed, not South Dakota. If their work is not localized in one state, such as truck drivers and salespeople, they should be reported to the state where they receive their direction and control. Do not report based on residency. Report based on where the work is being performed.
South Dakota Department of Labor and Regulation
Employer Connection E-Newsletter
You have received this email because you have an account with the South Dakota Department of Labor and Regulation or have subscribed to the DLR Employer Newsletter ListServ
This correspondence is sent from an account we use to send messages only. Please refer to our
Staff Directory page
to contact the appropriate department or use this
web form
to contact us. Thank you.